Hello! Let me introduce myself. I am Natalia Blekmor - Blakemore, owner of the Rottweiler Kennel "From Land Blakemore". I am a veterinary doctor and a RKF-FCI judge. I am a member of RKF. My passion and greatest love are Rottweilers. I know and love this breed from long ago.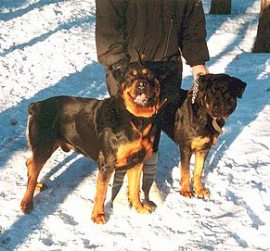 I got my first Rottweiler in 1993. She was an one year old bitch whose owner had refused to keep her anymore. Linda was a typical "Soviet" Rottweiler of that time. Her bloodlines came from dogs at "Red Star" Kennel (Moscow). She was not perfect to the classic standard exterior but she had such a kind, open soul and such a big loving heart that she subdued me from the first days she stayed with me. I kept Doberman Pinchers, Huskies and Airedale Terriers before but no breeds have been as close to me as Rottweilers!
My Linda was a very kind, clever, affectionate and devoted dog. She always tried to understand and please me by any means. She admired children and could spend a lot of time playing with them. I remember three months we spent together in a training course. I have never seen as big passion, attention and wish to work from my other dogs which Linda had. She just had to watch another dog who was working that course, and then she would repeat the exercises by herself without even my command. I think she tried to show me how much she loved me. She said: "Look at me, Mum! You needn't force me! You needn't command me! I can do all things for you! I just need your love and friendship!"
Linda and I passed the obedience course without any problems. From the first attempt we had very good results. She was just 15 month old then. Linda died when she was almost 10 years old. The purpose of her life was to serve people with love and devotion. She liked to make me happy. She was a lot more than just my first rottweiler. She was a special dog who began my love for this amazing breed; rottweiler.
Butch was Linda's son and my second rottweiler. He was only a puppy in that litter. Linda didn't have enough milk that time so I had to feed him every three hours for her. He was like my own son and even more. But an artificial nurse didn't give good results for his constitution. He was very weak and had a lot of problems with his health. He couldn't resist infectious diseases like a puppy who was nursed by mother's milk. My poor rotti went through many diseases and surgeries. His short life was not very easy, but he loved life. He could even be happy with his life when he had very bad ache. He wanted to live very much and he struggled for his life till the last days. This trait is characteristic for rottweilers. Even when a rottweiler has very weak health, he is always very strong with his emotions, soul and heart. I loved my boy very much and I got the same strong sense from him. He loved and admired me so much like only a rottweiler can do. His huge heart was completely filled with love.
My Linda and Butch will live forever in my memory. I thank them they have opened for me a special world. It's a world of Rottweilers.
"Fr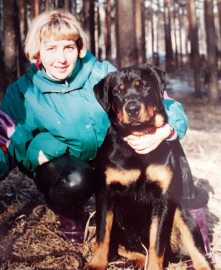 om Land Blakemore" Kennel was officially registered in FCI in November,5, 2003. The Registration Certificate is # 5763. I had already had three Rottweilers by that time.
The Founder of the Kennel and my first star was my beautiful bitch HOTREIN VICTORIA. We called her Dasha. She had wholly all the characteristics which a real Rottweiler must have (power, endurance, stubbornness, kindness, devotion, huge wish to work). Dasha has in her pedigree such wonderful, outstanding ancestors as Ben von der Scherau, Noris von Gruntenblick, Falco von Gruntenblick, Matcho von Burgthann, Gil von Burgthann, Chris vom Obergrombacher Schloss, Irk vom Obergrombacher Schloss, Dascha von Burgthann, and Flash von Wolfert Turm.
Her show career was very successful in Russia. Her results were Russian Champion, 3 x Champion of Russian Federation of Working Dog Breeds, Multi V1, CW on the Niagara Sieger Show (Canada) under Judge Hartmut Tescke (ADRK).
10 x CAC, 7 x R.CAC, 7 x BOS, 7 x BOB, BIG-1,3, BIS-3, Best Junior, J.BIS, 3 x Best Puppy and 20xCW.
When Dasha was 20 months old she passed in training for IPO-1. When she was 21 months old she passed koerung very successfully. She has koerclass-1 and became the Best Koerung Dog in May 2003 (koermeister Pavel Lavrinovich).
My Girl gave birth to very beautiful children. Her offspring are: Ajaks from Land Blakemore - GRAND CHAMPION, JUNIOR CHAMPION OF RUSSIA, CHAMPION OF RUSSIA, CHAMPION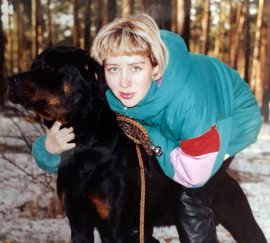 OF KAZAKHSTAN, CHAMPION OF RKF, CHAMPION OF THE NATIONAL ROTTWEILER CLUB, THE PRIZEWINNER OF THE INTERMEDIA CLASS IN THE KS ADRK-2006, TOP-ROTTWEILER OF RUSSIA - 2007, CANDIDATE TO NE INTERNATIONAL CHAMPION; Ayka from Land Blakemore - CHAMPION OF RUSSIA, JUNIOR CHAMPION OF RUSSIA; Jumba from Land Blakemore - CHAMPION OF RUSSIA and very good working dog.
From Land Blakemore Kennel has been breeding Rottweilers since 2005. It's a new kennel. But for now in our kennel were already born: 1 Grand Champion, 6 X Junior Champions of Russia, 11 Champions of Russia, 7 õ Champions of Russian Kynological Federation, Champion of National Rottweiler Club of Russia, Junior Champion of National Rottweiler Club of Russia, 4 õ Champions of Kazakhstan, Multy Winners of National Russian Rottweiler Club, Prizewinner of KS ADRK'06. Our dogs have 40 titles BOB!
Our purpose is to breed massive, strong Rottweilers with beautiful heads and dark eyes, with correct anatomy and good strong motions.
Welcome to our web-pages and enjoy!